The pharmaceutical industry is the most profitable industry in the world. But these profits are built on the back of rip-off drug prices that lock millions out of the medicines they need. Here in the UK and around the world, corporate greed is literally killing us.
But recognition is growing that the whole profit-driven way our medicines are developed is fundamentally flawed. We have a real opportunity to push for a system of medicine that prioritises accessibility and affordability for all.
Your donation today could:
Allow more people to put pressure on their MPs to take action for affordable and accessible medicines, by paying for more of our innovative 'health lottery' action cards
 
Pay for research exposing profiteering drugs companies and ensure we get the issue onto the agenda of the mainstream press
 
Draw in thousands of new people to our campaign online so we can ramp up the pressure on those in power, for example through producing short videos and engaging infographics that will grab attention
 
Make sure our voice remains strong, informed, and persuasive by ensuring our campaigners can take part in international meetings and co-ordinate our campaign globally with allies round the world.
For our cash-strapped NHS, for the millions round the world suffering unnecessarily, change can't come a minute too soon.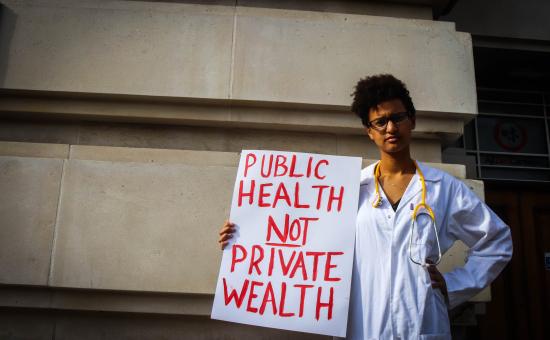 PREFER TO GIVE BY PHONE?
Tired of typing? Call 020 7820 4900 or 0800 328 2153 to give now. Lines are open 9:30am-5:30pm Monday to Friday.
Donations to this appeal will fund Global Justice Now's work generally, making our campaign to tackle pharmaceutical corporate power possible.