Corporate courts are not a means of serving justice. They are a means of ensuring people and planet always come second to the profits of multinationals.
But they only exist at all because of dodgy trade and investment deals. And that means we can stop them. Just like we've beaten unfair trade deals before.
There's a rising global movement fighting back and together we have an important role to play – because the UK is one of the biggest players when it comes to the companies suing through these shady tribunals.
We can do this. Trade is high on the national agenda right now and we have a perfect opportunity to push this issue into the limelight and force change. But we need you on board. Donate today to be part of the global fight back.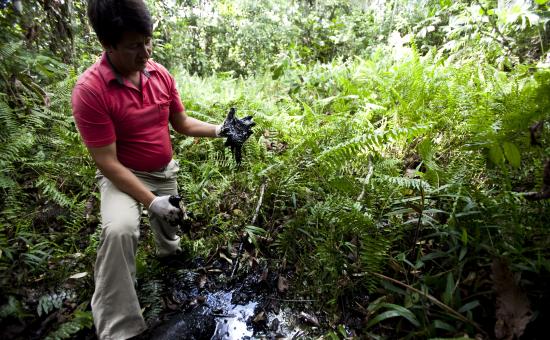 Crude oil abandoned by Texaco (now part of Chevron) contaminates the Ecuadorian Amazon. But a corporate court has ruled it's Ecuador who has to compensate Chevron for this disaster.
Tired of typing? Call 020 7820 4900 or 0800 328 2153 to give now. Lines are open 9:30am-5:30pm Monday to Friday.
Donations to this appeal will fund Global Justice Now's work generally, making our campaign against corporate courts possible.