This week in Geneva a resolution is being voted on which could help make drugs more affordable around the world. 
Yet we've discovered that the UK government is trying to undermine the resolution at this week's World Health Assembly – and is even pushing for all references to "high prices" to be taken out. This is an outrage, and we need your help to expose it.
High prices are a big reason why people are not getting the essential medicines they need, in the UK and around the world. Denying that they exist is not an option. The UK should be backing, not blocking, this global effort to make medicines more affordable. 
Exposing this latest UK government capitulation to the pharmaceutical industry's lobbying is part of our People's Prescription campaign. Together, we're pushing the issue of drug pricing up the political agenda, and promoting proposals for overhauling our current corporate-controlled system of drug research and development that can make a real difference to millions of people around the world.
Email health secretary, Matt Hancock, and international development secretary, Rory Stewart.
Call on them to withdraw the UK's amendment and support a global effort to tackle unaffordable medicines.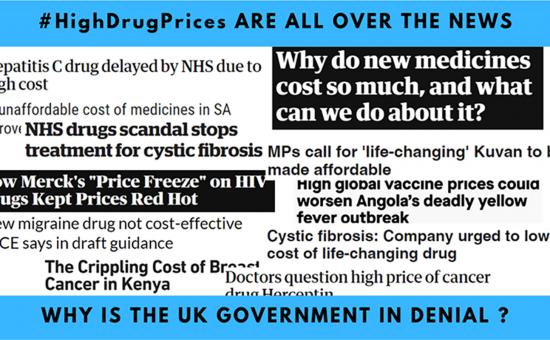 This is a joint action with STOPAIDS.